A high-level conference followed by bilateral international meetings – GO CIRCULAR
The high-level conference, followed by bilateral international meetings aiming at fostering circular economy business and R&D synergies and collaborations, took place 23 Nov – 24 Nov 2022 at DoubleTree by Hilton Skopje and Online and was organized by Foundation for Management and Industrial Research and Youth Entrepreneurial Service Foundation.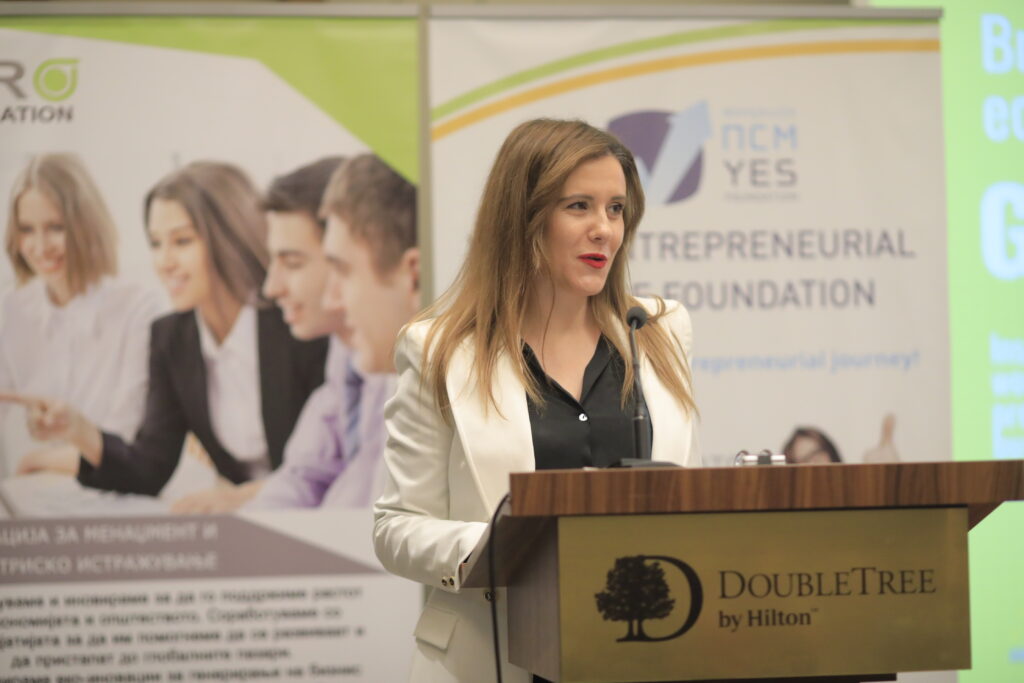 Both international + companies from the Western Balkan, as well as experts, researchers, and relevant stakeholders, participated in productive panel discussions, presentations, and workshops related to the circular economy and the application of the sustainable principle in the functioning of the business processes.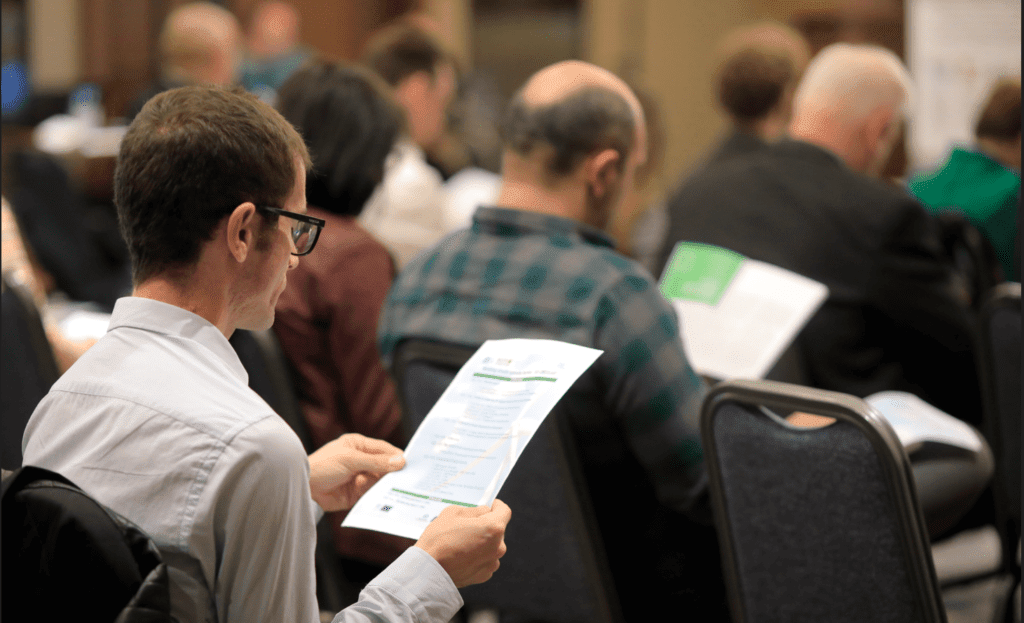 The panelists and the participants discussed the transition towards a circular economy as a process that should involve all entities who would help create, implement, and monitor the transition from a linear to a circular economy.
Furthermore, they emphasized the relevance of creating a close collaboration and cooperation that would involve the public and the private sector, thus taking full advantage of the potential and the benefits of the circular economy.
Additionally, it was pointed out that this transition would consist of several steps as strategical approaches, including creating incentives (legal, financial), stimulating innovation (technical, social, institutional), and generating information (data, knowledge, capacities).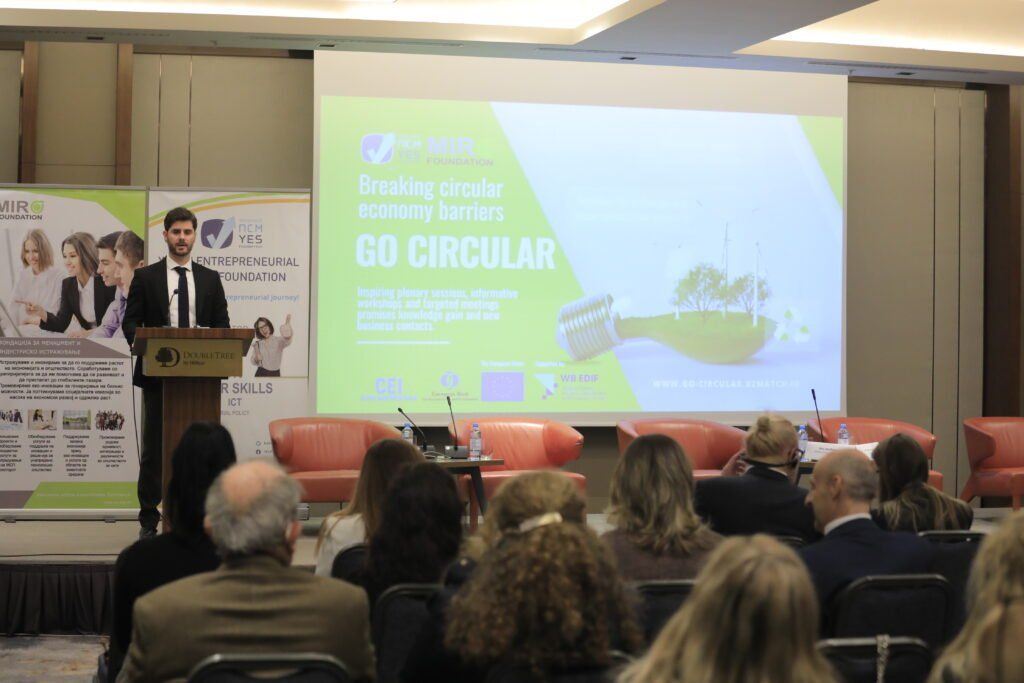 Emilija Andonova, Project Manager at Foundation for Management and Industrial Research opened the conference, while Aleksandar Filiposki, Executive director at Youth Entrepreneurial Service Foundation gave a formal opening speech. Then, we heard from Aleksandra Miladinovic – EBRD who explained the strategical priorities and the method of support offered by EBRD.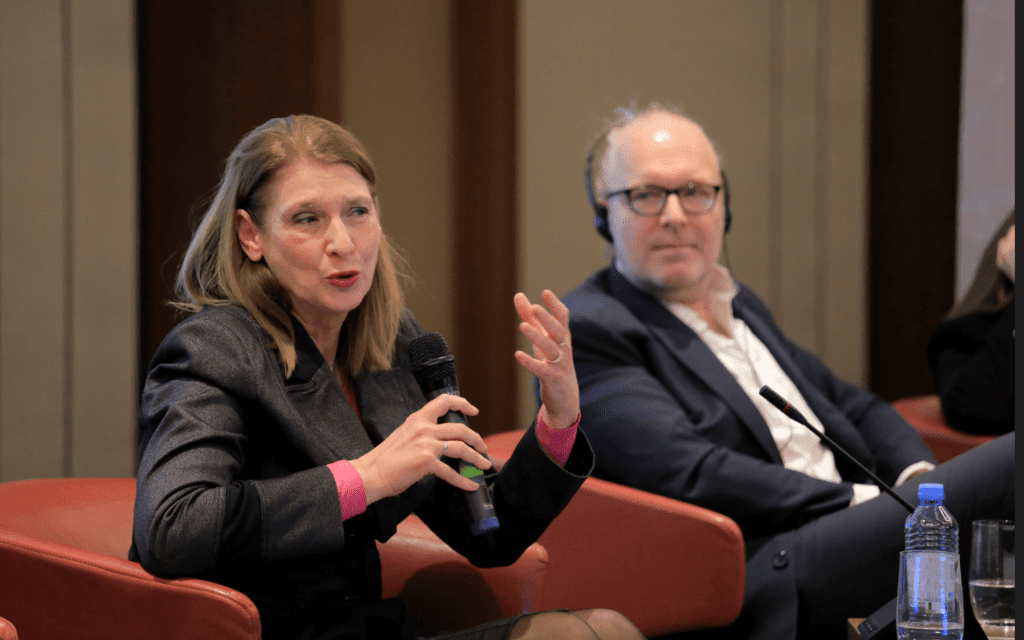 During the first panel, Ana Petrovska – Ministry of Environment and Physical Planning, talked about the possibility of introducing more responsibility on the side of producers within some additional frames expanding towards the automobile industry, considering that their selection is seldom not practiced in the correct and safe for the environment manner, especially because we are talking a very dangerous waste in this particular case; then the textile waste which also causes a lot of trouble to the landfills when inappropriately disposed; waste tires, etc. "Additionally, in terms of implementation of the principles of the circular economy, the option to establish a Register of secondary raw materials was introduced, i.e., registration of a certain substance/matter/product that occurs in the production process, which does not have the character of waste and can be safely processed into a secondary product – to be entered as a secondary raw material in the Register which would be available at other industries and other processing facilities that could be informed about the existence of that secondary raw material and its re-use."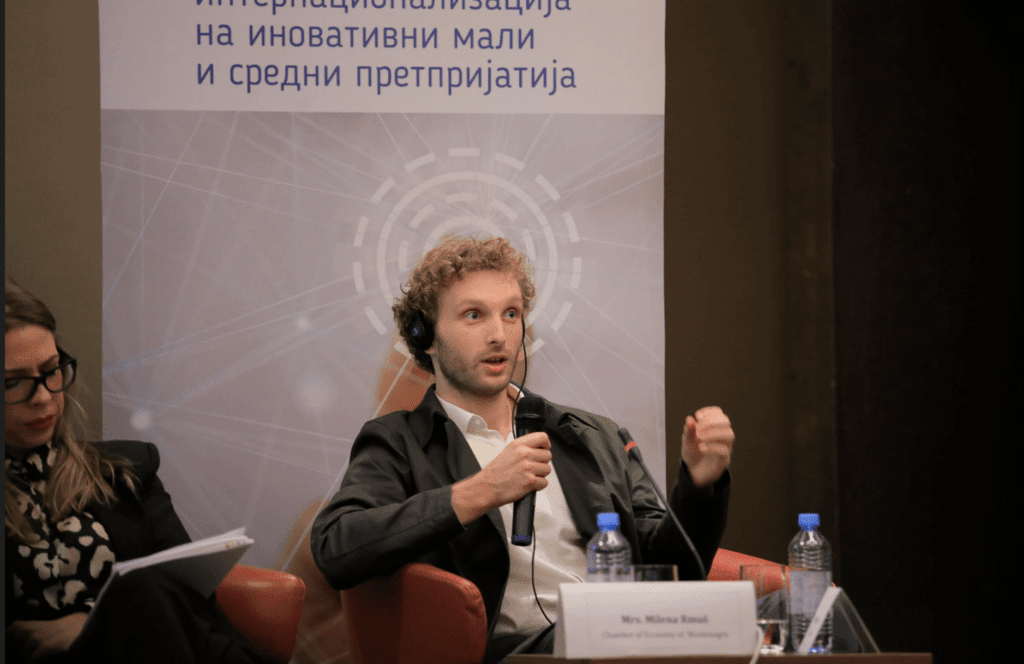 Andrew Keys – Circle Economy amplified the urge of involvement and alignment between stakeholders at all levels by mentioning the best practices in the circular economy, particularly those based on a collaboration of the public working with the private sector.
Furthermore, the way he looks at circular economy principles is through a framework of four elements regarding the materials flow:
1. Narrowing material flows (consume less)
2. Slowing the flow of materials in an economy (use products, components, and materials for as long as possible)
3. Recycling and designing products accordingly
4. Re-generating flows (not using toxic materials, incorporating more renewable energy, etc.)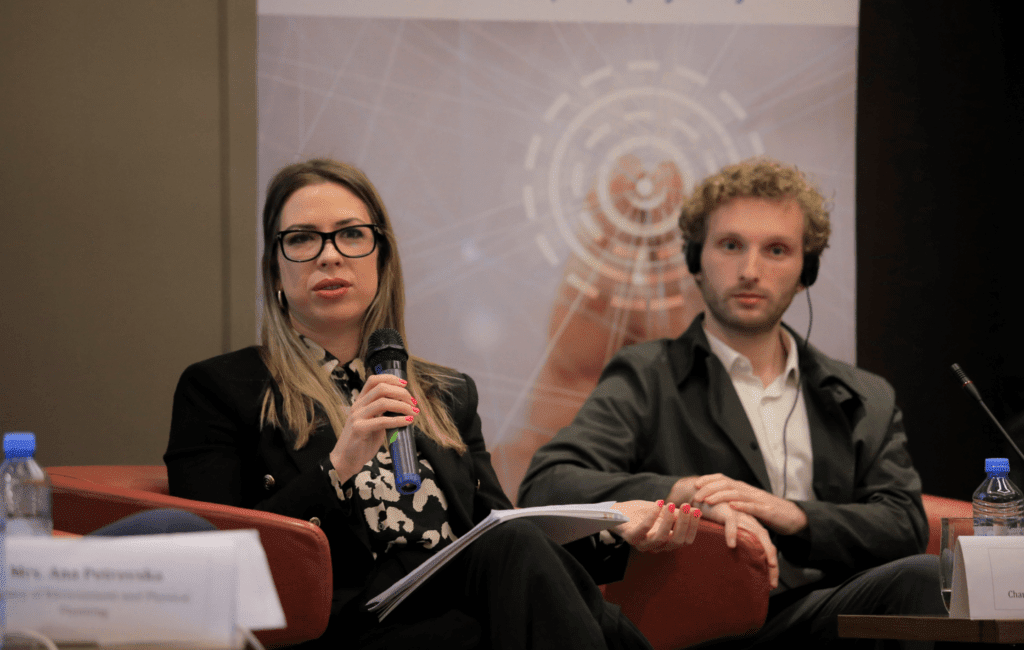 From Milena Rmuš – Chamber of Economy of Montenegro, we discovered about the Roadmap Towards the Circular Economy in Montenegro. She elaborated on the mapping of five priority sectors: food system, forest system, built environment, manufacturing sector, and tourist sector.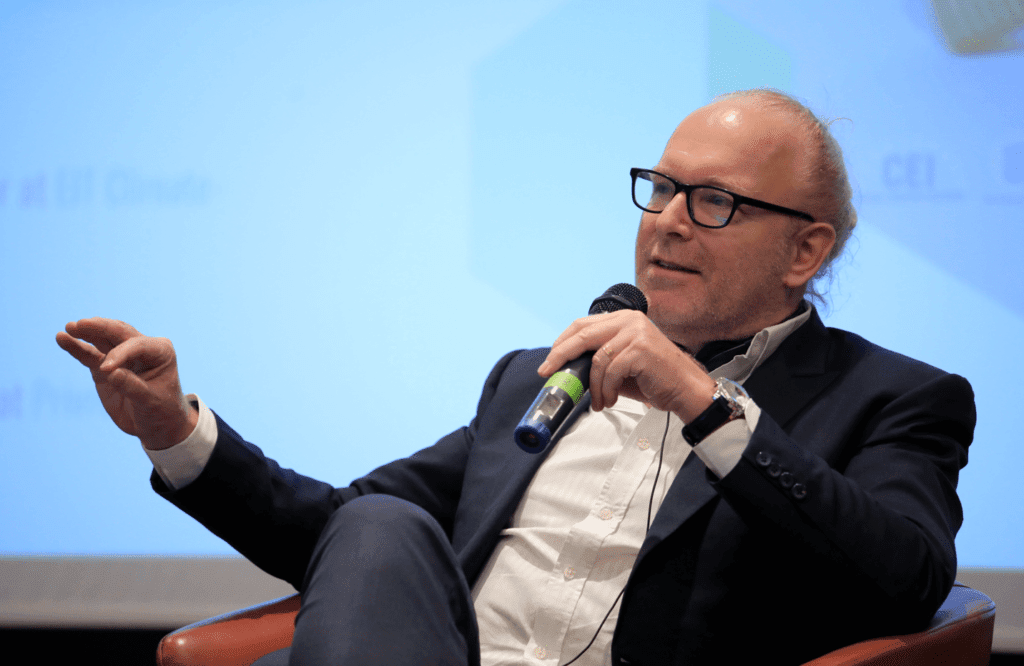 Martin Snijder – EIT Climate-KIC, pointed out that one of the reasons why we are not moving fast enough in the transition from a linear economy is because many of the activities towards a circular economy are project-based, and the acceleration can only be done through systems' innovations.
Slobodan Stanković – Chamber of Economy of Republika Srpska emphasized the importance of biomass as a potential sustainable development driver in Bosnia and Herzegovina. The biomass in question includes Forestry biomass (Stem wood, Logging residues, and Industrial waste wood) and Agricultural biomass (Byproducts from annual crops, Pruning, and Byproducts from livestock production).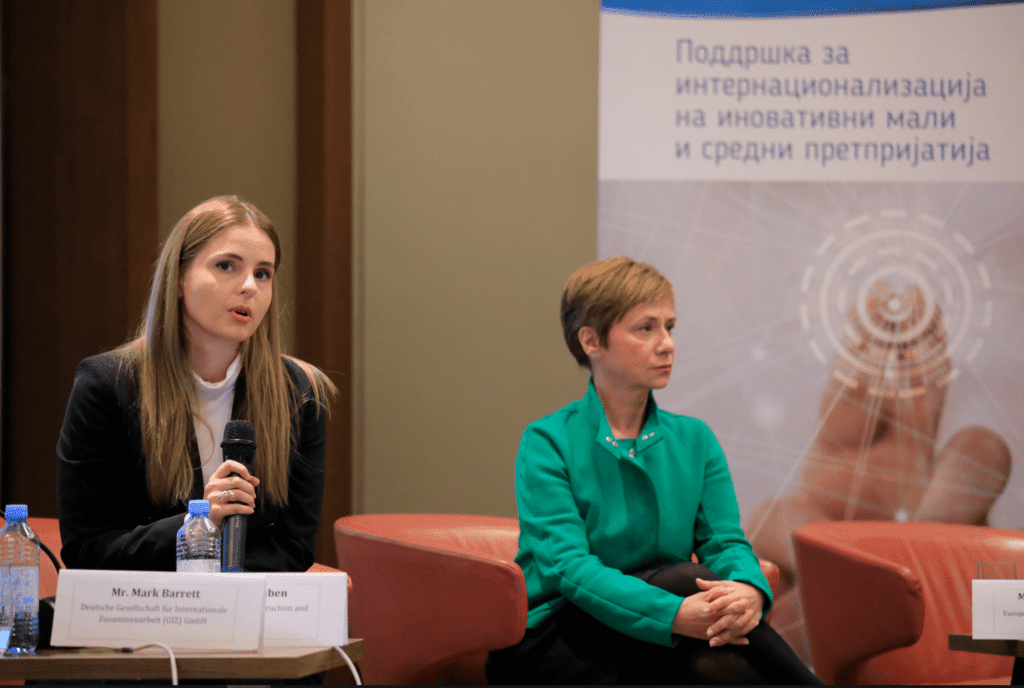 Marina Ruben and Sonja Ingilizova from EBRD, elaborated on the structural programs the bank offers to support, finance, and connect Macedonian companies with local and international consultants from different sectors (including the circular economy) in order to help business growth, with a particular emphasis on the Program for women in the business, the Program for young businessmen and businesswomen, and the Program for start-ups, accelerators, and other local consultants. Moreover, additional details were revealed about the criteria, types of projects, and the application form.
According to Mark Barrett – Deutsche Gesellschaft für Internationale Zusammenarbeit (GIZ) GmbH:
"Everything is moved by the private sector. You can have the legislation, you can have the government initiatives and everything else, but the real money, the real work, and the real change have to take place in the private sector (and this is what we are looking to support). When we look at the companies we work at, there are a number of areas that we look at: innovation is important, but also it has to improve the business, and not just in terms of circular economy, but it also got to improve the business in terms of its own financial sustainability and its own operation. So, it's important that we work with businesses that have the potential to grow, to have better jobs, and to increase the quality and the amount of economic activity that takes place. But one of the key components is that they also have to contribute to the circular economy – this is also part of the process."
Another international representative from EBRD who was part of "Breaking circular economy barriers – GO CIRCULAR" – Pitusa Bolano, EBRD explained the necessity of applying innovative business models and sustainability principles on the path toward the circular economy in the textile industry. The textile and wearing apparel sector is one of the most resource-intensive consuming sectors (especially the dyeing and finishing process) and also quite pollutant (CO2 emission, wastewater quality, and textile /apparel scrap to landfill). The degree of a company's commitment to green and social strategies has become a decision trigger among consumers. Alongside price, sustainability and good social practices have become the new requested criterion; it is a market request. Enterprises have to shift to Circular Economy in order to be competitive and keep their businesses running on a long-time basis.
The last panel consisted of speakers who presented some good practices in their companies from a circular economy perspective.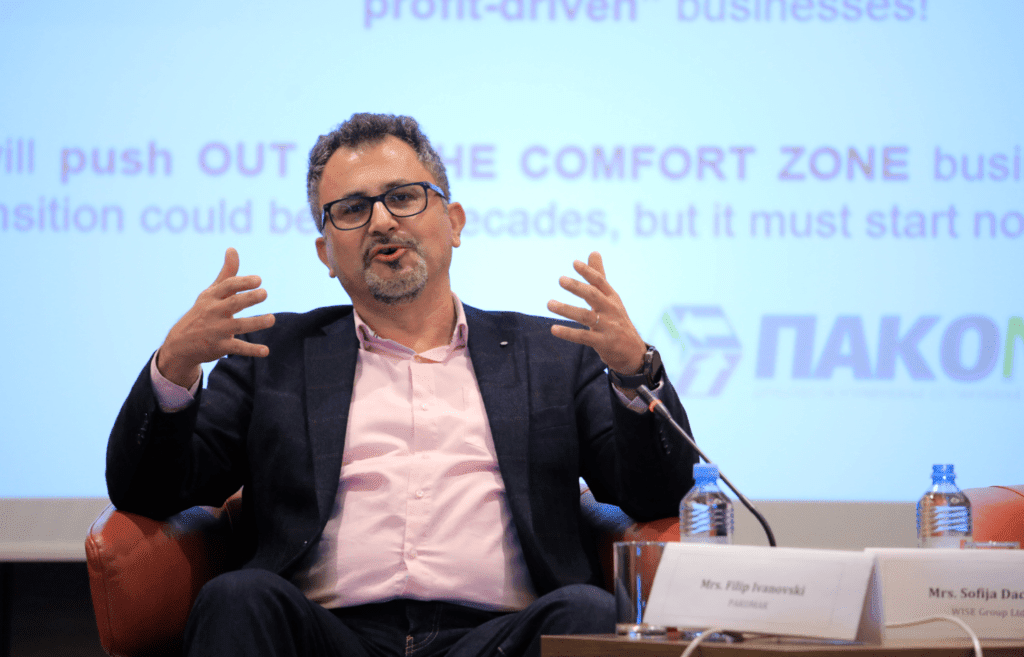 Filip Ivanovski shared with us the goals and future projects of Пакомак including the development of SMART sensors and software for waste management. The sensors will communicate via GPRS, and will show info about fullness & location of the container, tilt info, battery level info, and more.
It was also great to hear from Fabrizia Salvi and Luca Mercatelli – Area Science Park, who explained how this science, technology, and innovative park functions in terms of valorization of research and business generation. During the elaboration online, they also specified a few examples of successful implementation of the circular principles in different industries, such as the tourism sector, promoting a "consume less and produce differently" approach.
Roman Gdovjak – CYRKL was online to present the way his company connects relevant business partners via their digital marketplace for waste management from various industries.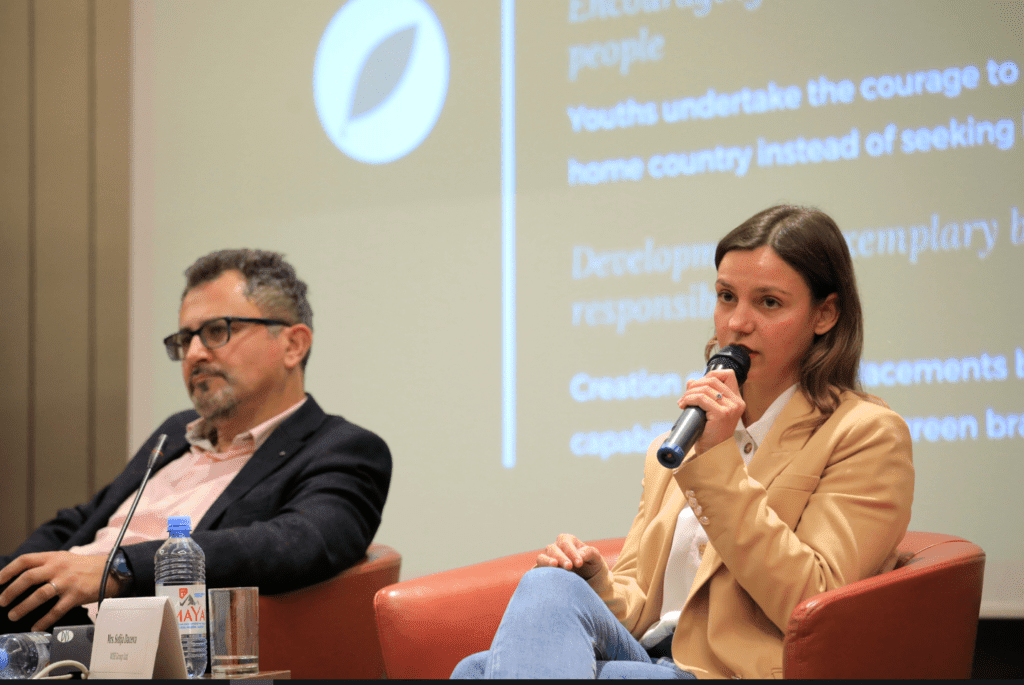 Sofija Daceva and her team developed innovative technological processes for grape pomace processing and extraction of multiple healthy characteristics at the same time. The idea behind WISE Group is solving the grape pomace challenge, which currently affects local wine producers, municipalities, and local communities; while creating a possibility for nutrition improvement of various foods; therefore, contributing towards 2nd and 12th sustainable goals.
Marek Kuźmiński and Adrianna Piasek from Ecobean gave a detailed explanation on the process of re-using the coffee waste (most oftenly created by the coffee bars or similar locations), and how they use innovative solutions to transform this coffee biomass into completely new products, thus reducing the carbon footprint in the entire coffee chain by at least 20%, valorizing spent coffee grounds for green products.
Although online, Carolina Innella's presentation of ENEA-Italian National Agency for New Technologies, Energy and Sustainable Economic Development was impressively insightful. She emphasized the multidisciplinary dimension of the circular economy. She has also shared some information and useful links to networks for fostering knowledge, multistakeholder dialogue, and good practices collection within Italy and the EU.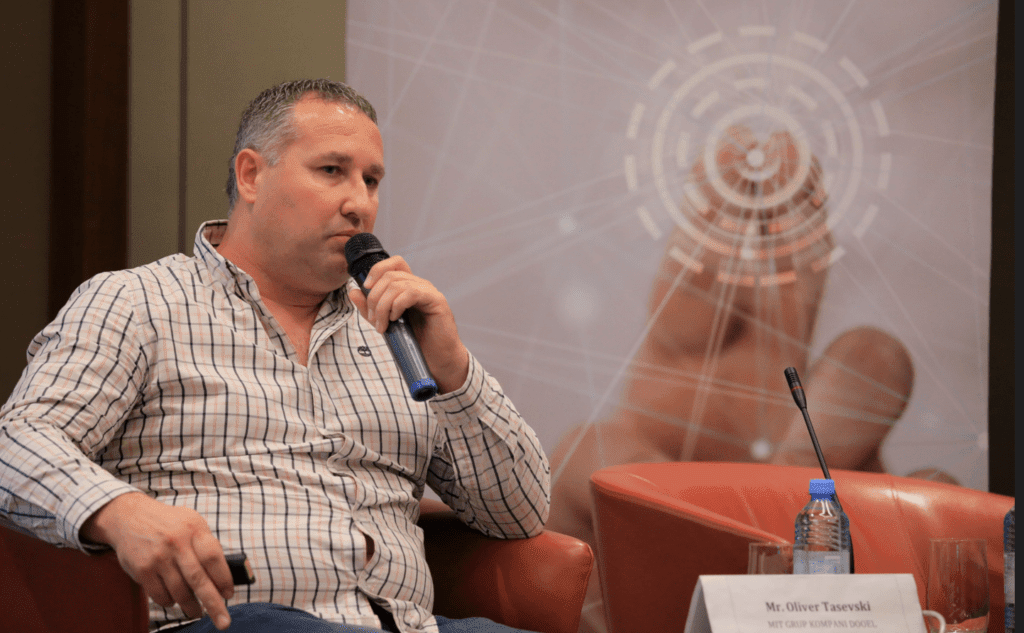 Oliver Tasevski – MIT Group Company shared experiences for saving 7200 t/year. emission of CO2 through recycling 1800 t of paper and cardboard.
During the second day, which was planned for B2B connection, 58 bilateral meetings were held with companies from the European Union for business cooperation and synergies in the field of research and development.
It was concluded that although the concept has not evolved to the expected level in terms of buyer/consumer habits, constant efforts are being made to increase awareness (especially among small and medium-sized businesses) of planning, creating, and designing products applying "green" and sustainable tactics as one of the main characteristics of the circular economy.